Two-day mokuhanga workshop will be organized in Kyoto by Shoichi Kitamura.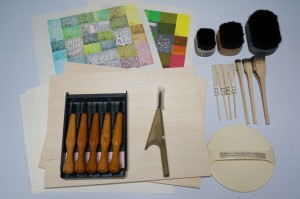 Place:
Kitamura Mokuhanga Studio (About 40 minutes from central Kyoto. Participants will receive emails with access information.)
Date:
Sept. 16 (Tue.) – 17 (Wed.) 2014, 10:00 – 18:00
Fee:

¥12,000 (Please make a payment by cash on the day.)

Instructor:
Shoichi Kitamura – a carver based in Kyoto
Entry:
To participate in the workshop, please send by e-mail your name, address, telephone number, occupation, to the following address.
Shoichi Kitamura:  show.1-k(a)nifty.com  *Please change(a)to @.

* A number of participants is up to 6 people.
Participants will be able to complete an approximately A4-size, four-Ban (print) work during this two-day workshop. The Omoban (key block) method, color separation method, the use of color, and various effects from different carving methods will be taught using the participants' own work. The participation fee of 12,000 Yen includes following:
– woodblock, washi paper, paint and other materials, and
– the use of tools including knives, baren, brushes etc.
Participants may bring their own tools if they wish. Please prepare your original design / image, approx. 17cm x 26cm in advance.
About the instructor:
Shoichi graduated from Kyoto Seika University Faculty of Art Printmaking Department – Mokuhanga Program in 1992 and was subsequently employed by Matsukyu Woodblock Publishing. He was then apprenticed to Osamu Hotta, a master-carver in Kyoto. Since 2001, he has been working as a freelance carver and taught in Nagasawa Art Park residency. Shoichi has organized many workshops internationally including Japan, Finland and Denmark. He has collaborated with artists for publications in Singapore and Australia.
He is a member of Kyoto Woodblock Printmaking Association and a vice-chair of Kyoto branch of the Ukiyo-e Woodblock Printmaking Association of Technical Preservation.