---
Introducing the new IMC International Board members and announcing Claire Cuccio as Chair and Ralph Kiggell as Vice-Chair
IMC International Board (IB) Members 2015-2017:
Claire Cuccio (Chair, USA)
Ralph Kiggell (Vice Chair, UK)
Julie Irving (Australia)
Tuula Moilanen (Finland)
Hiroki Morinoue (USA)
Michael Schneider (Austria)
Katsutoshi Yuasa (Japan)
A message from the Chair of the Local Committee of the IMC2017 Hawaii
IMC2017 Hawaii
IMC 2014 Tokyo was held at the Tokyo University of the Arts with the Satellite events held at the 3331 Arts Chiyoda complex. It was very rich experience and a celebration of art and culture that seems to have happened just yesterday.
During the conference, we exchanged some thoughts about holding the next IMC abroad to benefit many Japanese interests. Holding the conference outside Japan would offer Japanese craftsmen and young Japanese printmakers an opportunity to see how Japanese mokuhanga is used in the West, and to see Western views of Mokuhanga and its future possibilities. This is the only way to bring such an awareness to them, and to interest them in the rich learning experiences and development made possible by international exchanges and networking with Artist-in-Residence Programs. It will help strengthen the relationship among all the interests and beyond and sustain the lives of printmakers and craftsmen.
At the 2014 IMC Hiroki and Setsuko Morinoue discussed the possibility of hosting the next conference in Hawaii, since that location offers good support for Japanese artists and craftspeople who may have have language and cultural barriers to face during the first trip outside Japan.
We approached Prof. Charles Cohen at the University Hawaii Manoa and the Honolulu Printmakers' Executive Director Duncan Dempster to support the Conference as Site Co-Chairs on the island of Oahu, since this event will be hosted by IMC2017 Hawaii Local Committee under the Donkey Mill Art Center, on the island of Hawaii, "the Big Island."
The key players on Oahu and Hawaii as well as many dedicated individuals are lining up as we move forward. We are very excited to collaborate and willing to work hard to make this event a success and to celebrate across the state
---
NEWS: IMC2014 closing and IMC new board selected.
2015.08.10
IMC2014 was successfully closed by the Seven former board members:
Karen Kunc, Kari Laitenen, Seiichi Miida, Claire Cuccio,Michael Schneider, April Vollmer and Keiko Kadota.
And now, we would like to introduce the seven new board members selected after IMC2014's closing.
Claire Cuccio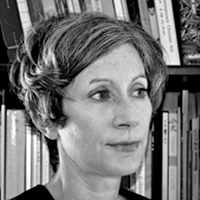 Independent scholar of traditional Asian woodblock printmaking and print culture
PhD in Japanese literature from Stanford University (2005)
Has lectured at Beijing Foreign Languages University, Kyoto Consortium for Japanese Studies (KCJS) at Doshisha University, BankART 1929, Yokohama, and others
Publications address both the social positions and creative practices of traditional woodblock artisans working in China and Japan today as well as contemporary artists working in print and paper.
Julie Irving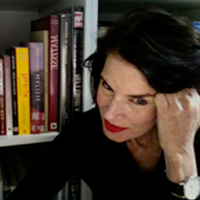 Currently resides in Australia
Artist/lecturer: painting, drawing, digital and printmedia.
Qualifications: National Gallery of Victoria Art School Dip. Art, Post Graduate Dip, Victorian College of the Arts, B.A. University of Melbourne, Master of Architecture R.M.I.T.
Teaches in the Drawing and Printmedia Department, Faculty of the Victorian College of the Arts and Music University of Melbourne (VCA).
Beginning in 2006, the VCA Printmedia Department began an ongoing staff and student exchange program with Tokyo Geijutsu Daigaku, Tokyo University of the Arts, Printmaking Department (Geidai).
In 2014, we exhibited student work as part of the Satellite Program at 3331 Arts Chiyoda, and participated in the 2nd Mokuhanga Print Conference.
Ralph Kiggell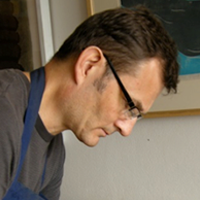 Based in Bangkok, Thailand
Practices and teaches water-based woodblock printing.
BA in Chinese Studies from SOAS, London University (1983)
MA in Printmaking from Tama Arts University, Tokyo (1999).
Originally studied woodblock printing at the Toshi Yoshida Studio, Tokyo (1990), and was also a Research Student at Kyoto Seika University (1994).
Collaborations include with an NGO on the Myanmar border in Thailand (2013), children's books, murals and design work, and two books with woodblock illustrations to poetry with the Old Stile Press (2006 and 2013)
MiLab Residency Program in Kawaguchiko (2012)
Artist in residence at Papworth Cardiothoracic Hospital, Cambridge (2013).
Lecturer at Chulalongkorn University, Bangkok, since 2011.
Website: ralphkiggell.com
Hiroki Morinoue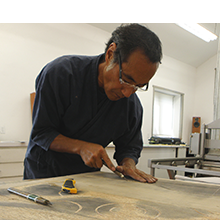 Artist/teacher, based in Holualoa, Hawaii
Studied Japanese Woodblock Printing under T. Okubo sensei, Japan (1983)
BFA, California College of Arts & Crafts (1973)
Practices and teaches water-based woodblock printing and painting across the USA
Co-founder, Artistic Director and Chair for the Exhibition Committee of the Holualoa Foundation for Arts & Culture
Has served as a juror for various juried art exhibitions across the USA
Has served as an Acquisition Award Selection Committee for the Hawaii State Foundation for Culture and the Arts
Has exhibited extensively across America and Japan
MI-LAB Residency Program in Kawaguchiko (2012)
Works in numerous public collections, including Hawaii State Foundation on Culture & the Arts, The Honolulu Academy of Arts, Ueno no Mori Museum, City of Fujisawa, Japan
Michael W. Schneider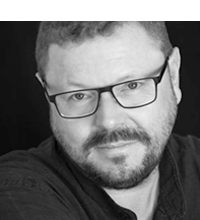 Studied at the Academy of Fine Arts in Vienna and at the Tokyo University of the Arts in Japan.
Since 1990 he has worked intensively in the medium of woodblock printing.
For his research in non-toxic and computer aided printmaking Schneider was awarded the Theodor-Körner-Award 2005.
Has exhibited extensively within Europe, Turkey, Japan, Korea, China, Canada, North- and South-America.
Founder and co-editor of im:print, journal of the current state of printmaking
Staff-writer of "Um:Druck", journal for Printmaking and Visual Culture"
Faculty member at the Department of Graphics and Printmaking, Institute of Fine Arts and Media Art of the University of Applied Arts in Vienna, Austria
Adjunct Professor at the Art Department of Webster University in St. Louis, Missouri.
Schneider completed his habilitation for "Graphic Arts with an emphasis in Printmaking and Printmedia" at the University of Applied Arts in 2014.
Website: http://www.michael-schneider.info/
Tuula Moilanen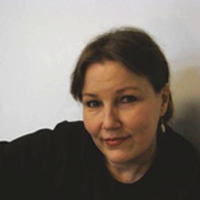 Woodblock printmaker, book artist, freelance writer and graphic designer.
Member of The International Ukiyo-e Society in Japan, The Association of Finnish Printmakers and the Finnish Woodcut Artists Society.
Graduated from Kankaanpää Art School, Department of Printmaking in 1981
MA from University of Jyväskylä, Department of Art Education in 1989.
Research student in Japanese traditional woodblock printmaking and papermaking at Kyoto Seika University in Japan 1989-91.
Degree of Doctor of Arts in 2013 from Aalto University, School of Arts, Design and Architecture in Helsinki.
Several solo and group exhibitions since 1980
Works in Finnish museums and collections
Published books and articles about Japanese art and culture since 1995.
Website: www.tuulamoilanen.net
Katsutoshi Yuasa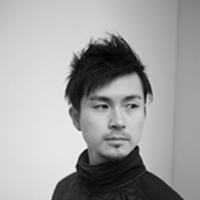 Currently lives and works in Tokyo
2003 – 2005 studied at the Royal College of Art in London
1998 – 2002 studied at the Musashino Art University in Tokyo
Has participated several international residencies since graduation:

Rijksakademie van beeldende in Amsterdam
Cité internationale des Arts in Paris
Danish Art Workshops in Copenhagen, Pro Artibus in Taamisaari, Finland
Kloster Bentlage in Rheine, Germany
FLAAC in Genk, Belgium

His works have been shown internationally:

ISE Cultural Foundation in New York
Yokohama Museum of Art in Yokohama
The Courtauld Institute of Art, London

His works have entered numerous public collections:

The New York Public Library
Museum der bildenden kunste Leipzig
Victoria and Albert Museum, London

2011, he won the Towry Print Prize at the RA Summer Exhibition, and the Northern Print Prize.. 
Website: www.katsutoshiyuasa.com
© IMC Head office